So its time to start bloggin again!!! Thank you all for coming back to take a look at some things we have been doing over the summer. Over the next couple of days I hope to re-cap some fun things we did this summer! First and foremost its been an amazing couple of months, we have really grown together as a family which is always an awesome thing. I am so thankful for them.
We left off right before we went to D-I-S-N-E-Y! It was a blast!!! Jaden loved pin collecting and Addy LOVED the characters. Its always amazing to see Disney from their eyes! Because pictures are worth a thousand words....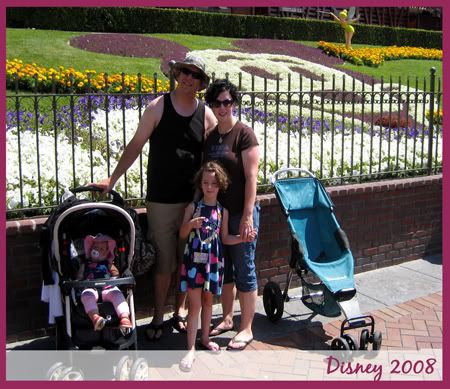 Okay you might have noticed some changes! Well I am excited to be working with some of the work at home moms who make diapers and other "green" products in making logos for them! It has been a lot of fun and I look forward to each and every logo that is created! My little thread is over at the diaper swappers forum and is called
criss cross applesauce
. My background in early childcare lends itself easily to this fun title! ;) One of the things I wanted to do with this is to get the work at home moms AKA= WAHM, some LOVE!!!!!!!!! They work so hard to give us earth friendly products at a reasonable price! So each Wednesday I hope to feature a WAHM. So check back for more goodies!
This week I am featuring one of my FAVORITE WAHMS Amber from
Mudshrimps
Here she is with her adorable family!~
Let me just tell you a little something about Amber. NOT ONLY are her products TOP NOTCH, but she has the BEST customer service around. You will always open her packages with a HUGE smile on your face, this is a promise! She is on top of her emails like none other and is just all around one of the sweetest mamas in town!
We have many products from Amber but she is most famous for her diaper covers. They are so stinkin cute and if you get to order a custom and browse her fabric gallery you will be lost for days in there, shes a fabric addict! So many yummy prints!
I interviewed Amber to give us more insight on her creativity...
Describe your work in

words.
Making untypical diapers for cool babies.

Please link us up to your

favorite WAHM stores besides yours! :)
Punk Rock Padding
My Punk House
Puddin Babies Potions
Booty Cubes
Berry Imperfect Designs

What are
favorite projects you have ever worked on?
By far my favorite project was a really, really big diaper. I won't elaboarte but it was fun. I always enjoy getting put to a challenge and dared into things ;).
Then this diaper.
It was one of my first appliqué jobs and I think it turned out awesome!
Next would be this set.
It had tons of meaning and was for a mama who's sister is battling breast cancer and she wanted to show her support for her =).
Last but not least is pillow cases. You are probably wondering why pillow cases, well you see here my husband is always asking for me to make them for him. They are the simplest things but he sure does love them. Whatever makes him happy.

I see you are into FABRIC as well can you show us
fabrics that best represent your work?
Quilt Pirates
Bewitched
Ooga Booga

Tell me

tips you would give to anyone wanting to be a WAHM?
Not to give up is the most important thing. Also always remember your reasons for becoming a WAHM.

What is the

thing that inspires you the most?
Not just one thing, but 3 little things....my boys. They are the reason for the whole existence of Mudshrimps!

Amber was kind enough to offer my readers a $5 off coupon (which is a STEAL if you have seen her prices!) to her store!! In order to be entered for this simply leave your name and email address (one per person please) in the comments section here on my blog and next Wednesday I will enter all the numbers into a random # generator for the lucky winner! THANK YOU AMBER!!!!